Tips to Pick Top Multi Factor Authentication Providers
Are you looking for the best multi factor authentication providers? Check out our list of the top providers and tips for selecting the right one for your needs.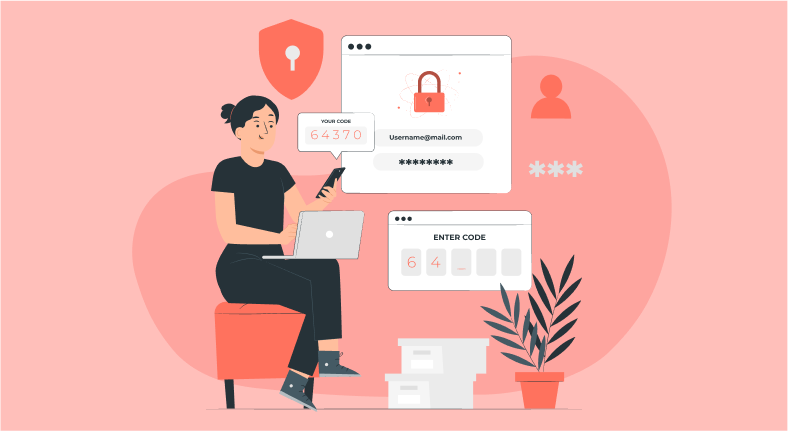 Multi factor authentication (MFA) is a technique of gaining access to an application, account, or device through additional authentication levels than just a login and password. One-time passwords (OTPs), key fobs, USB-based key generators, smart cards, and biometric identification are examples of additional authentication levels. Authentication software protects users' accounts by forcing them to authenticate their identity in two or more methods before accessing accounts, sensitive information, systems, or applications. Users are required to provide a second authentication factor in addition to a single authentication factor, such as entering a username and password, to confirm who they claim to be.
MFA software can be marketed as a standalone product that integrates with a company's user accounts or as part of a composite package, such as workforce-based identity and access management (IAM) software or as a client-based customer identification access management (CIAM) solution.
Here in this article, we have provided a list of top multi factor authentication providers, but before that, let's check out some tips for selecting password management software.
How to Pick Top Multi Factor Authentication Providers?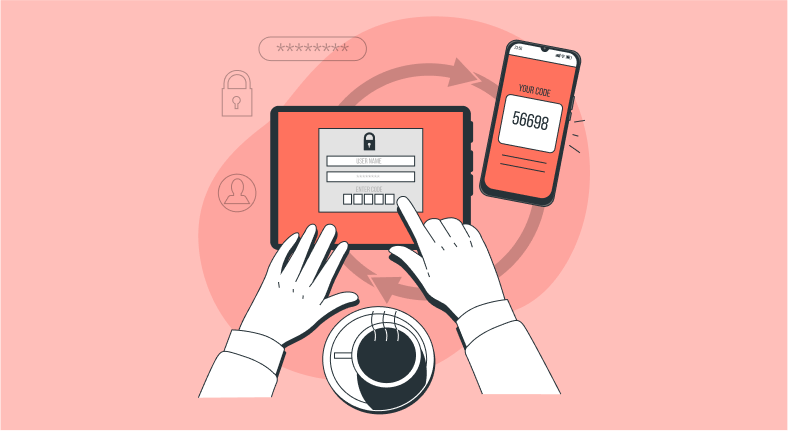 Since there is a demand for greater access control and the necessity to comply with regulatory standards, authentication software has become the norm in business today. While each organization and sector has specific needs for their identity management software solutions, they should always begin by examining the fundamental three aspects: scope, usefulness, and mode of delivery. With these considerations in mind, they should wisely choose password management software from amongst the top Multi Factor Authentication providers. Given below are some other important factors to keep in mind while choosing an Multi Factor Authentication solution.
Extensibility
Any password management software implementation your organization chooses must be accessible in order to be deployed throughout the whole organization as the business expands. This implies that security measures should be uniform throughout the organization. Implementation should include all end-users, regardless of whether they work in the office or remotely. Cloud and on-premises apps, VPNs, server logins, and privilege escalation should all be covered by Multi Factor Authentication.
A Large Spectrum of Authentication Use Cases
Look for a system that can allow you to effortlessly enforce multi factor authentication across all applications and services used by your users. While some free or bundled MFA solutions may only protect a few applications and support a few use cases, it is critical that every account is secured, and it is even better when there is a central admin area to manage all linked application users.
Analytics and Reporting
Another significant feature that should be noted in multi factor authentication is that it provides you with a far greater overview and awareness of your organization's security landscape. One of the first things you should check when weighing the advantages and drawbacks of identity management software is the reporting and analytics capabilities. In addition, reports in the admin console should be easily accessible. When testing a solution, consider the amount of information displayed as well as the ease with which reports can be generated, scheduled, and accessed. Reports should be straightforward to access and export, enabling you to see all of the data.
Cost
There are costs associated with installing Multi Factor Authentication, which vary depending on whatever option your organization decides to deploy. There are several ""free"" MFA suppliers that promise to be free to set up. However, it's crucial to realize that many of the capabilities, such as addressing a wide range of MFA use cases, providing statistics and analytics, connections with bespoke apps, or admin controls and rules, are not available with these solutions. Some Multi Factor Authentication suppliers may have cheaper onboarding charges but extra fees later on, such as fees for securing specific apps. Therefore, it is essential to choose an Multi Factor Authentication solution that offers all the required functionalities for the price you're paying for it.
Top Multi Factor Authentication service providers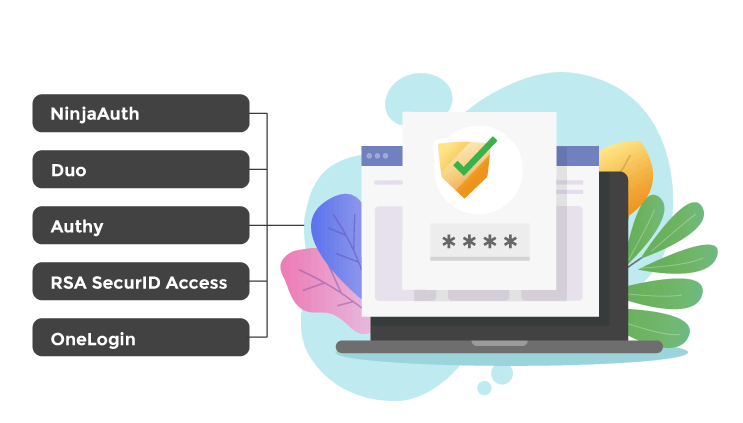 NinjaAuth
NinjaAuth is a simple multi factor authentication (MFA) tool that assists businesses in protecting their assets, information, and user identities. Since it is a cloud service, no expensive hardware is required, and it can be administered from anywhere using its user-friendly interface. You can add an infinite number of applications and manage them all with a simple and straightforward single login. SSO enables a user to sign in to several applications with a single click and saves them time while boosting security by just entering their credentials once. While logged in, the secure login mechanism keeps data safe from cybercriminals. To add an extra degree of protection to online accounts, secure authentication tokens are utilized, which aids in the prevention of illegal account access.
Duo
The duo is a cloud-based identity management software platform that safeguards access to all apps from anywhere for every user and device. Duo uses robust passwordless authentication and industry-leading multi factor authentication to verify users' identities. When combined with extensive insights into your users' devices, Duo's Single Sign On Solution provides centralized access to both on-premises and cloud apps, providing users with a uniform login experience. Duo protects against compromised passwords, dangerous devices, and unauthorized access to your apps and data.
Authy Protect yourself, your workers, and your company against cyber threats without sacrificing usability. Authy enables workers to generate, secure, and exchange credentials in real-time. It also works offline, so you may still access 2FA-protected websites. You may use your 2FA tokens on multiple devices, including iOS, Android, and Chrome. Alongside this, you can directly manage devices and account information from the app. Like most other two-factor authentication applications, Authy features a secure cloud backup option, allowing you to use it on numerous devices and easily recover your credentials if you lose or change your phone.
RSA SecurID Access
RSA SecurID Access is multi factor authentication and access management system for enterprises. It maintains security with failsafe features that enable authentication even when there is no internet connectivity. It is compatible with SAML and RADIUS connectors and standard agents, as well as IIS/Apache, Windows, Unix/Linux, and ADFS. The platform enables user and entity behavioral analytics (UEBA) to detect questionable network user activities.
OneLogin
OneLogin streamlines multi factor authentication by providing secure, one-click access for workers, clients, and partners to all business cloud and on-premises apps across all device types. OneLogin enforces IT identity policies and immediately bans app access for workers who leave or change positions by deleting them from the Active Directory. Users can use OneLogin Desktop to log in once and access all of the apps in their OneLogin Portal as well as SAML-enabled desktop apps. There is no requirement to sign in again. Using Desktop Pro, users sign into their laptop using their OneLogin password, removing the need for a different laptop password entirely. Third-party options for multi-factor authentication include Google Authenticator, Yubico, and others.
Summing It Up
The most critical step in preventing breaches is to implement a tiered authentication system for providing people access to an application, account, or device. The MFA industry is gaining tremendous momentum, particularly as online transactions are on the rise. However, only 26% of the companies use this tool, but this number is steadily increasing. Investing in a strong MFA solution is a sensible decision for any corporation, and the decision is much simpler when you have a list of top MFA providers to choose from. With power pack features, robust security management, and a competitive price of just $14,99 for 39 apps, NinjaAuth by 500apps is our recommended solution for all your MFA needs.
Know Why NinjaAuth is the Best for Single Sign-On Solution?
#1
Streamlined Security Compliance
#2
Single Login for Multiple Applications
#3
Easy Deployment of Applications
#4
Improved Control Over Sharing
#5
Combat Password Fatigue
#6
Conditional Access Privilege
#7
Multi-Factor Authentication
#8
Authentication at Ease
#9
Unbelievable pricing - the lowest you will ever find
#10
Everything your business needs - 50 apps, 24/5 support and 99.95% uptime
Join the SaaS Revolution
All-in-One Suite of 50 apps

Unbelievable pricing - ₹999/user

24/5 Chat, Phone and Email Support