Implementing Single Sign on Software for Business Safety
Cybersecurity is quintessential to reducing data loss and security breaches in your organization. A study indicates that according to a study 61% of all breaches involve stolen credentials. The high incident rates are due to the adoption of cloud technologies that are key to major advancements and the rising number of remote workers. Remote and hybrid work culture threatens the organization because companies don't invest in cloud-security tools like multi-factor authentication. Managing user access to the system has become essential to combat digital cyber threats and safeguard your organization's sensitive data.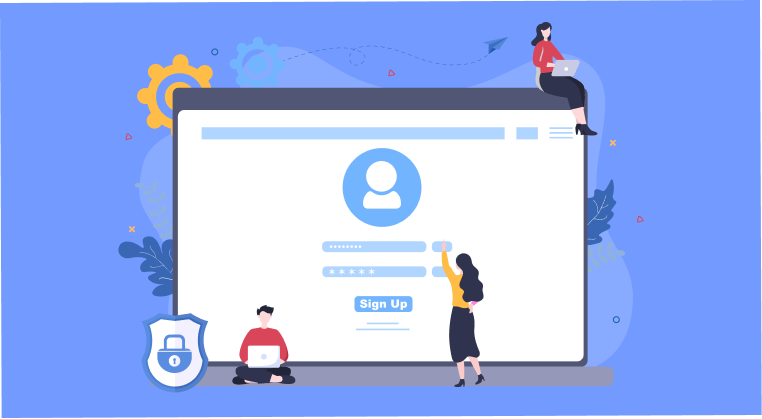 Implementing single sign on software with two-factor authentication software can aid your organization with potential data loss in the event of a cyber attack. From a risk standpoint, credential theft and social engineering/phishing attacks are the prominent attacks on organizations where 60% of mid-size businesses are experiencing such attacks since remote working after the pandemic hit.
To prevent identity and access-based attacks in your business, incorporate software that helps with identity and access management. This article will enlist five Implementing single sign on software to keep your organization safe.
Key Aspects of Implementing Single Sign on (SSO) Software
User authentication is an identity claim by a person trying to gain access to an organization's assets. It is a security process to prevent unauthorized login and access to the network. By Implementing single sign on software authenticates the users through a sso provider software application, acts as an identity access management system, and validates your credential when logging into the account through single point sign-on service. An authentication software does a password-based authentication and adds a layer of multi-factor authentication to it or for certificate-based authentication or adopts a biometric authentication system.
Why is Implementing Single Sign on Software (sso) Significant for Businesses?
Implementing single sign on software enhances security by linking authorized users to their registered devices. In the event of fraudulence, you can shut the user's device quickly.

Implementing single sign on software gives an option to use a risk-based authentication approach. The system's risk engine adapts the authentication type based on the risk level.

Users may be susceptible to phishing attacks that use emotional appeals in emails or text format so that users click on malicious links. Authentication software eliminates the risk of interception by hackers.

A multi-factor authentication software uses an additional layer of security to the user's credentials, reduces fraudulent attacks by generating OTPs, text messages, or authentication codes, and aids user access management.

Using software improves user experience and lowers the need for carrying hardware tokens to keep track of PINs and passwords. Authentication methods provide a secure experience, build trust and enhance user satisfaction.
5 Implementing single sign on software Options for Businesses
Below are the top 5 Implementing single sign on software solutions for your business:
NinjaAuth
NinjaAuth by 500apps is the top Implementing single sign on software solution with security compliance and easy application deployment capability. It enables conditional access and supports multi-factor authentication. The app is also a single sign-on authentication software that allows you to add and manage unlimited projects. It also enables developers to secure API without a separate authentication server. NinjaAuth prevents unauthorized access to user accounts by acting as a two-factor authentication software. In addition, they provide password management, identity access management, and application management solutions as authentication software vendors. Developers can add authentication to their applications through the Init method and benefit from a secure testing environment with NinjaAuth.
Duo MFA
Cisco Duo Access is a Implementing single sign on software solution helping modern enterprises with security challenges. It balances usability with strong authentication by switching to a passwordless authentication solution. They support database authentication protocol and multi-factor authentication. Duo's device management stands out, which prompts users to update laptops and mobile devices when logging into accounts, helping to ensure devices remain secure against cyber threats. They have a free version, Duo access is the mid-tier solution, and Duo beyond is for large organizations.
Microsoft Azure Active Directory
It is a cloud-based identity access management software that supports multi-factor authentication, SSO, B2B collaboration controls, and self-service password. It does not have a single API key, secure API authentication, data storage management, and automatic backup features. It allows you to integrate with Microsoft productivity and cloud storage.
Okta
Okta is an identity and access management software that provides secure access to cloud accounts with adaptive multi-factor authentication and single sign-on features. Okta supports all user authentication methods, including security questions, one-time passcodes, notifications, and biometrics. It enables remote work with security, improves M&A agility, API access management, and advanced server access controls with its workforce identity solution to protect employees, partners and contractors. Its access gateway feature allows integration with custom-built and on-premise solutions ideal for implementing role-based controls.
Secure Auth
It is a multi-factor authentication software and user identity platform that uses a risk-based adaptive authentication policy and single sign-on to secure access to corporate accounts. Also, it allows API integration with existing environments. It evaluates user login attempts, including device health, location, IP address, and user behaviors, such as repeated failed logins. In addition, it provides admin controls and tools to manage user authentication. SecureAuth has editable templates and granular policies and eases the authentication experience.
How to Choose the Right Implementing single sign on software for Your Business?
To select & for Implementing single sign on software for your business, features like MFA, adaptive authentication, flexibility, ease of use, visibility level, and pricing play a pivotal role. Go for use cases that support and address your pain points. You can reduce inefficiency, administrative overhead, elevated risk, and higher cost by implementing integrated access management, single sign-on, and multi-factor authentication solution. Look for software that provides authentication method suiting your organization and access policies to give a convenient login experience to your users.
Wrapping It Up
The digital business landscape needs to be security compliant, and with reliable user authentication methods, you can protect user identity from cyber threats. If you are looking for robust Implementing single sign on software for your business, NinjaAuth is an ideal pick at the unbelievable pricing of $14.99 for an all-in-one business suite of 39+apps. It improves security, simplifies management, and increases productivity with a Single sign-on feature. Also, it provides a unique API key to access each website and allows signing into multiple accounts. A secure login system, multi-factor authentication, application, and identity management make it the best software in the market. To learn more about the features, go to the 500Apps website and sign up for a 14-day free trial today!
Know Why NinjaAuth is the Best for Single Sign-On Solution?
#1
Streamlined Security Compliance
#2
Single Login for Multiple Applications
#3
Easy Deployment of Applications
#4
Improved Control Over Sharing
#5
Combat Password Fatigue
#6
Conditional Access Privilege
#7
Multi-Factor Authentication
#8
Authentication at Ease
#9
Unbelievable pricing - the lowest you will ever find
#10
Everything your business needs - 50 apps, 24/5 support and 99.95% uptime
Join the SaaS Revolution
All-in-One Suite of 50 apps

Unbelievable pricing - ₹999/user

24/5 Chat, Phone and Email Support