How to Choose Right Single Sign on Service Provider
This article will help you to choose right single sign on service provider for your organization. This guide will help you make an informed decision. Solutions for single sign-on make it simpler for users to log into all of their accounts with a single set of credentials. To access all of your corporate accounts if they utilise one of these SSO systems, all they need to do is register with your SSO provider.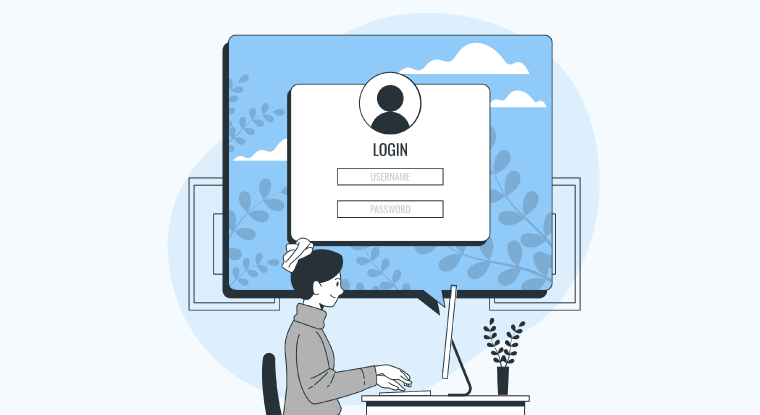 Single Sign On Solutions provide an easier way for users to access all their accounts using a single set of credentials. If they use any of these SSO solutions, all they have to do is sign up with your SSO provider to access all your corporate accounts. When users sign in to their application or website, the single login provider uses their account to verify that they are a legitimate user before they are signed in. After logging in, SSO continues to identify users as verified and allow them to move seamlessly within the site and between other accounts.
The advantage of single sign on is that users can easily log in to their accounts without having to manage multiple accounts and passwords. It also means that organizations can be confident that they are not using passwords that users can easily guess or reuse between accounts. Single sign on helps the IT personnel save time by allowing administrators to manage all users and permissions using a central administrative dashboard. Users don't have to remember complex passwords, and administrators can rest assured that only users with the appropriate permissions can access their accounts
Choose Right Single Sign On Service Provider by Considering these
If an organization opts for identity management software, it assists in maintaining a single name and password to access multiple applications. However, there are some factors that need to be considered before deciding on a suitable SSO software for your company.
Define Your Needs
While choosing a business solution, organizations must consider their overall needs, goals, and objectives of the business, as Single Sign On Solution may vary from workforces to customer base. A list of company needs include: -The user simply has to provide a single login and password to access all sites. -The user just has to log in once every day or session to receive access to all sites. -You must be able to integrate all of your cloud and SaaS apps -The application must recommend security requirements -The application must provide a single app gateway -The application mustsupport a wide range of devices using SAML and cooperation with MDM providers. You can choose an SSO solution depending on which requirements is of highest priority for you.
Research Your Options
Research is important before forming any opinion, as SSO comes in different packages and varieties. Every web sso offers different services and features. Organizations must choose the SSO depending on the needs determined in the step above. There are many types of SSO, a few of them are:
Service for Central Authentication (CAS)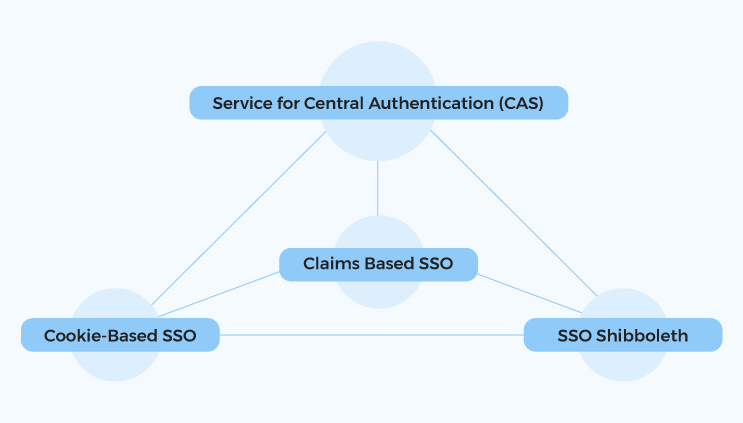 CAS, developed by Shawn Bayern at Yale University, varies from traditional Security Assertion Markup Language (SAML) SSO in that it uses Server-to-Server communication. Although the Client Machine initiates the token request, final verification is accomplished through a back-end connection between the CAS server and the authentication software provider. Because of its emphasis on further, more direct verification, CAS is a common SSO protocol used in educational institutions.
Cookie-Based SSO
It works by leveraging web-based HTTP Cookies to transmit user credentials from browser to server without the user's intervention. Existing client-side credentials are acquired and encrypted before being saved in the cookie and delivered to the target server. The cookie is received by the server, which extracts and decrypts the credentials before validating them against the internal server user directory.
Claims Based SSO
Claims-Based SSO Claims are issued by a claims issuer who is trusted by several parties. Claims are often packed into a digitally signed token that may be sent across the network using SAML.
SSO Shibboleth
Shibboleth is another SSO protocol that is commonly used in educational organizations, particularly when a large number of universities are federated to share applications and/or services. Shibboleth also aids in the automation of metadata parsing to handle security certificate updates and other configurations that may be established by individual institutions within a federation.
Consider Ease of Use
A simple, clean mobile user interface is important for Single Sign On Solutions in a world where employers require employees to use the system to access business applications. The mobile experience should be the same as the online experience, and using a mobile phone should not pose any additional security risks.
Look for Integrations
The SSO solution needs to be secure. Encrypted user data should be inaccessible to outsiders. However, for SSO to work effectively, it must be able to send information both externally and internally. Therefore, you should look for a solution that integrates with AD / LDAP for ultra-fast access to user credentials for authentication.
Compare Pricing
A feature-packed solution allows administrators to integrate web sso and SaaS applications used by organizations to easily log in between accounts. SSO assists businesses in providing their employees seamless access to multiple applications and websites. However, SSO software can be either expensive or completely free, making it difficult to find complete solutions at a competitive price. Thus, an organization must go through their requirements and define their budget. The cost of SSO services can vary from expensive enterprise subscription to free access for limited users. The price of SSO is important when it comes to the utility of such solutions in the business. Therefore, business organizations must evaluate their budget, price and resources to implement IT services using the platform.
Consider the Security
Combining SSO with multi factor authentication introduces an additional layer of security to validate user identities and secure login. With the rise of remote work, end users are still aware that they are hampered by additional security measures that are costly, complex, and time-consuming to set up and manage. This solution provides AD / LDAP integration and guarantees very fast access to all user data for authentication purposes. You should remember that security is paramount to avoiding potential hacks and risks.
Check for Customer Support
Customers can log in to their account to check balances, view past statements, pay invoices, check credits, or use accumulated points for their trips. Customer satisfaction is improved by not forcing customers to log in individually to each application. For this experience to be ensured, an application management needs to provide everything you need for the business, including access to lesser-known custom applications.
Consider Scalability
The Single Sign-On provider of choice needs to be easily extensible so that the IT team can easily add new employees and address additional growth challenges. Like many companies that increase IT spending, businesses need to choose a vendor that can keep up. This factor cannot be ignored. A single sign-on solution provider that anticipates complex technological changes can keep up with business change and growth. SSO providers need to be able to easily scale to meet new recruits and other growth challenges in the IT department.
Try Before You Buy
When it's time for companies to choose a single sign-on provider, there are many options to choose from. Given the factors, it is imperative to find a quality service provider for the company that can cater to its specifications and requirements. This is often more difficult than it looks. In addition to using the tips and information above, you should test your password management software, go through thorough user reviews, ask for a demo, and finally, choose the best one by seeing if some features or elements stand out.
We recommend trying NinjaAuth. This allows users to easily access multiple applications using a single set of credentials, regardless of where the applications are hosted while allowing administrators to manage access to those applications. It is a perfect solution for companies that need to manage multiple applications with different authentication requirements.
Summing It Up
A good Single Sign On Solution doesn't lock your organization in a box. Instead, it allows the administrator to customize the user experience. For example, the login page should be able to skin different looks and feels that match the company's brand. Not only is the optical system flexible, but it also needs security. A good SSO solution should provide access based on a variety of factors, from groups to IP addresses and additional authentication factors. Businesses should choose an API that enables a fully customized user experience with dynamic app links on an individual user base. In short, you should thoroughly consider the factors mentioned in the article to opt for the best-in-class single sign-on solution that provides a customized user experience and a seamless sign-in experience.
Know Why NinjaAuth is the Best for Single Sign-On Solution?
#1
Streamlined Security Compliance
#2
Single Login for Multiple Applications
#3
Easy Deployment of Applications
#4
Improved Control Over Sharing
#5
Combat Password Fatigue
#6
Conditional Access Privilege
#7
Multi-Factor Authentication
#8
Authentication at Ease
#9
Unbelievable pricing - the lowest you will ever find
#10
Everything your business needs - 50 apps, 24/5 support and 99.95% uptime
Join the SaaS Revolution
All-in-One Suite of 50 apps

Unbelievable pricing - ₹999/user

24/5 Chat, Phone and Email Support