Multi factor authentication (MFA) refers to a security technology that requires the user to provide multiple verification factors to access resources like applications, VPNs, online accounts, etc. Technology is a core component of the identity management software framework. It allows organizations to protect their systems from unauthorized access by allowing only authorized and authenticated users to access the resources.
The authentication method does not ask for a username and password but requires two or more independent verification credentials to decrease the likelihood of cyber-attacks.
MFA aims to create a defence layer to make it difficult for an unauthorized user to access resources like computing devices, database systems, physical locations, etc. If the attacker breaks or compromises one factor, there will still be barriers available to protect the system.
Why Do You Need It?
Organizations must implement multi factor authentication to meet compliance requirements and develop a multi-layered secure environment. Since traditional password credentials are not reliable and efficient, MFA is the best means to secure any system.
Here is why you need the authentication software method.
Zero Identity Theft or Stolen Passwords
Attackers use various means to steal passwords from users - fraudulently asking for sensitive information, installing malicious codes in devices, or recording the keys stuck on keyboards. Both individuals and large organizations can fall prey to the attacks. MFA ensures the system remains secure and prevents passwords and other significant credentials from getting compromised. Since the system requires two or more verification factors, there is no way that an attacker can access it.
Protection Against Weak Passwords
Nobody is an expert in creating complex passwords despite getting reminders of password security's importance. Most individuals may use common passwords that further compromise a system's security as the attacker can crack them easily. MFA prevents all password-related security breaches because users must verify their identities in various ways to access any resource or system. Thus, if a hacker manages to obtain the user's password, the individual cannot gain access to the system.
Zero Unmanaged Devices
Most organizations have introduced hybrid and remote working in current times. However, the process has led to a few employees using personal devices or less secure internet connections to access networks. Compromised routers allow hackers to install password-breaching malware on the user devices. Most attacks go undetected on personal devices, which makes the organization's system prone to cyber-attacks.
Organizations can mitigate cyber-attacks by using multi factor authentication methods to secure employees' Wi-Fi connections and personal devices. MFA methods like password management software can help employees secure their systems against unwanted threats or malicious attacks.
Reliable Security Measures
Advanced firewall and anti-virus software protect business systems but leave a space open for employees to sign in to the network. So, if an attacker uses stolen credentials to access the system, the individual can bypass other security measures and make them redundant. The attacker may also disable the anti-virus software and firewall securities after gaining access and destroying the system.
However, multi factor authenticatin prevents unauthorized users from accessing a system with stolen passwords. Moreover, the security technology allows other tools to function as barriers to protect the system even if someone accesses it using unauthorized measures. MFA acts as a warning to alert organizations about unauthorized access attempts.
Increased Employee Productivity
Most employees use simple passwords because they consider it a burden to remember complex codes. A few organizations enforce strict password policies to prompt employees into setting strong passwords and updating them regularly. However, the process leads to the problem of forgetting passwords. It means the employees have to reset the passwords, which wastes their time.
MFA provides flexibility to employees as it allows them to sign in in multiple ways – from a single-use code to a fingerprint scan. The authentication software method also enables secure remote access to an organization's network, meaning the employees can work from home securely or while traveling, thus increasing their productivity. Zero Compliance Issues
Most state laws require organizations to have strict authentication processes for clients and employees to store and handle sensitive data like financial information, personal addresses, etc. MFA ensures that everyone is compliant with the identity and access management rules and regulations for an enhanced security system within organizations.
How Does Multi Factor Authentication Work?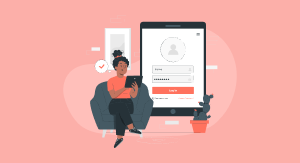 Multi factor authentication is a critical security measure to help secure an individual or organization's system. The account security method ensures that only legitimate users can access applications and accounts within a system.
So, how does the authentication method work? When the end-user logs in to an account, the individual will input a username and password. Then, the system may ask the user to verify his identity with a couple of available options.
The options may include sending a one-time password or OTP via an authenticator app or SMS, entering biometric information like face or fingerprint scan, etc. A few organizations may prompt users to authenticate their identities using physical tokens like keys or swipe cards.
The identity and access management solutions provide various admin policies for implementing multi-factor authentication. The policies may include implementing two-factor authentication, a common MFA form.
A few MFA solutions support adaptive authentication that aims to make it flexible for users to access critical systems without compromising account security.
MFA guards organizations against account compromise by ensuring extra security levels are attached to every log-in attempt. The authentication method alerts users of suspicious log-in attempts and blocks attackers from effective access to systems. So, account attacks become less common when organizations use multi factor authentication methods.
Summing It Up
MFA solutions are less expensive and easy to deploy in organizational systems. The authentication methods provide effective protection to users and business networks for a long period.
If you want the best authentication protection for your organization's system, choose NinjaAuth. The single sign-on solution ensures data security and simplifies the user experience. The app allows users to log into various apps with a single set of credentials. This saves time while also decreasing the possibility of password theft. Thus, NinjaAuth provides an extra layer of security and restricts unauthorized access to systems. For more information, visit the 500apps website today!