How Web-Based Single Sign-On Work and What Are the Challenges?
For work-related objectives, business organisations use a number of passwords, and their workers use a further dozen for private purposes.
For work-related purposes, business firms employ a number of passwords, and their personnel use a further dozen for private purposes. The weaknesses associated with passwords have led to an increase in security lapses and cyber-attacks. The majority of hazards are caused by passwords that are short, basic, and used across multiple systems. An organization's staff spends too much time inputting passwords. Eliminating the usage of numerous passwords is the best method for managing passwords. To access all online services, you can utilise a centralised authentication technique like a web-based single sign-on system. You can sign in using a single set of credentials, such as a special username and password, with a web-based sign-on system. You can use this authentication to access numerous websites and web-based applications that require a password.
How Does Web-Based Single Sign-On Work?
Web-based single sign-on systems depend on a trusting relationship between websites and online systems. Here is how the web SSO system works when you sign in to a password-protected website or an online service.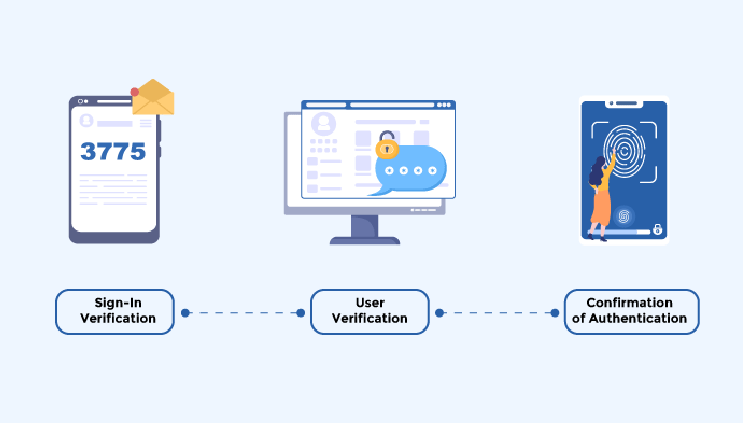 Sign-In Verification
A web SSO system's first task is to check whether you have already signed in to the authentication system. You can immediately get access if you have already signed in. However, the system asks you to sign in to authenticate if you are not a previous user.
User Verification
You must sign in to the authentication system using your unique user ID and password at the beginning of every session. The system grants you a token for the particular session until it ends. Confirmation of Authentication
Once the authentication process is over, the information is passed to the website requesting user verification.
The Impact of Web-Based Single Sign-On on Businesses
The web-based single sign-on system allows seamless access to various applications anywhere on any device, thus maintaining business efficiency and ensuring a better customer experience. Here is how single sign-on technology impacts businesses.
Increased Employee Productivity
Web-based sign-on ensures that employees spend less time shuffling through usernames and passwords. It results in increased employee productivity because they can focus on other prioritized tasks by saving time.
Improved Security System
Web SSOs decrease the risk of password-related hacks in systems. The SSO system enables users to remember a single password for applications. As a result, the users create complex, solid, and hard-to-guess passphrases.
Decreased Costs
If an organization and its team members use multiple passwords, there is a chance of forgetting them. This results in more password resets and increased IT costs. Web SSOs help decrease these extra costs by enabling the use of a single password for multiple systems. Improved Customer Experience
SSO implementation's best impact on any business is enhanced customer experience. Most users abandon a website or an application because of forgotten passwords or reset requirements. SSO helps alleviate the issues as it gives single sign-on access to all customers. It results in higher conversion rates, increased customer loyalty, and enhanced brand visibility.
The Challenges of Implementing Web-Based Single Sign-On
Web-based single sign-on enables organizations to use a centralized system for authorization management and user identity. However, organizations face multiple challenges when implementing web SSOs.
Technical Difficulties During System Integration
Organizations face technical challenges during the integration of systems that apply to both security and architecture. Old-generation systems like ERP and SAP have obsolete technological architecture, but modern applications and websites use newer technologies. For this reason, there is a lack of cooperation between the disparate technologies when implementing web-based SSOs into various conventional systems.
Lack of Knowledge
Most organizations cannot assure a successful SSO implementation due to the absence of comprehensive documentation of the service and business catalogs. It results in projects getting initiated with web-based single sign-on systems without a strong understanding of the existing applications. Lack of knowledge about current authentication protocols used in applications may lead to a failed deployment of SSO systems.
Summing It Up
Users can access various websites, applications, and other online portals by utilising a single set of credentials thanks to authentication processes that make use of web-based single sign-on systems. The best approach for a company to protect its network and boost staff productivity is with a centralised authorisation and authentication solution. In order to prevent consumers from having to endure the inconvenience of memorising numerous passwords each time they sign in to a system, SSO implementation helps establish a trustworthy relationship between websites and online services. Are you trying to find a single sign-on solution for the software in your company? If so, you can pick NinjaAuth to increase the efficiency of your system by guaranteeing data security and a centralised access management system at a reasonable price.