How To Configure Single Sign-On For Different Applications
A single set of login credentials can be used by users to log into numerous applications thanks to single sign-on, an authentication service and session.
Single sign-on is an authentication service and session that allows users to use a single set of login credentials to access multiple applications. Small enterprises, organizations, and individuals alike can use a single sign on configuration for easy management of usernames and passwords. The authentication method allows users to authenticate multiple websites and applications securely with a single set of credentials. Single sign on is a reliable cloud security technology that helps reduce multiple user logins to a single login for convenience and security.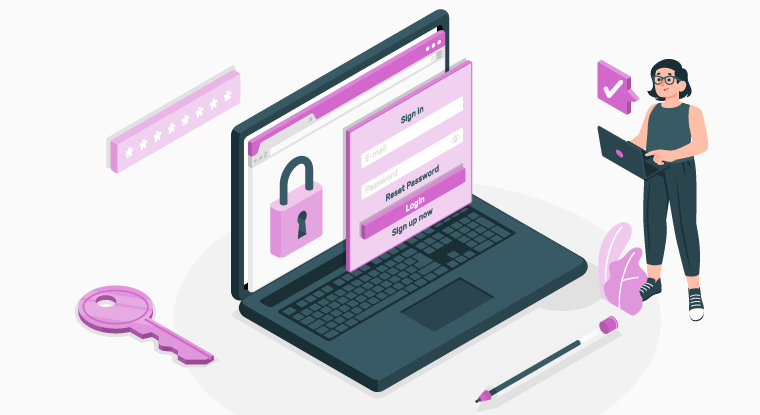 How To Configure SSO in Different Applications?
The specifics of how SSO gets configured in different applications will differ depending on the single sign on client you are working with. You must have set clear objectives and goals for the single sign on configuration, no matter what the specific steps are. You must consider the following points before configuring SSO in applications.
-The types of users and their requirements.
-The solution types and their benefits for the organization.
-Features to ensure trusted user authentication.
-Systems for integration.
-API access requirements.
We will discuss the steps to configure SSO in different applications below.
-Review the SSO objectives and select the options that make sense for your organization's future security.
-Identify the user requirements, assess the system's capabilities, and perform a gap analysis to ascertain the loopholes.
-Design architecture and arrange for the resources and skills to operate the SSO system.
-Determine the control access requirements for the single sign-on system to ensure the users get authenticated properly.
-Refine and iterate the architectural approaches as required by the SSO service system.
SSO Implementation Best Practices
Single sign-on provides a centralized approach for authorization and authentication. The service helps improve overall security and user experience by relieving the users from repeatedly signing into various websites and applications. However, you must consider the safeguards when implementing SSO in the system. Here are the best practices related to SSO implementation.
Perform Security Audits During Procurement
Organizations must focus on the procurement standards to ensure all tools have SSO, provisioning, and de-provisioning. The IT team can perform security audits on tools and applications to ensure each of them uses SSO configuration for application management to enhance security and user experience.
Approve Multi-Factor Authentication
An organization must mandate multi factor authentication to prevent incidents of compromise. It is essential to strengthen the weakest links in the SSO workflow, including policies around password selection and rotation. Users must update the single login with strong passwords and use multi factor authentication for all implementations.
Evaluate Protocols and Architecture
You must ensure that your single sign-on solution meets the industry requirements and gets placed in the correct IT architecture within the organization. The SSO's architectural placement is significant because it helps source relevant IP addresses and blacklist the malicious ones.
Summing It Up
Single sign on configuration is the best practice to help protect systems and valuable data from unauthorized access. SSO implementation helps reduce multiple login requirements and allows you to have a single set of credentials for all websites and apps.
For all your SSO needs, we recommend getting NinjaAuth, which is an efficient single login solution that helps you set up authentication with a few codes. The app ensures data security and boosts system productivity by offering a centralized access management system for all applications.